Mobile Notary Public Service - Bartow, FL
863-698-3793

Notice: I work from home, always CALL before showing up to ensure I am actually home. I may be out on a mobile notary or running errands. Call 863-698-3793 to make sure I am available.


As a Florida Commissioned
Notary Public
, I can come to you to
notarize
your documents. You can also
come to my office
in Bartow during office hours if desired (see
Contact Us
page for address, hours and prices)
If I travel to your location, I charge a
minimum fee of $20
which
includes
a $10 travel fee, and $10 for the first 2 Notary stamps. If there are additional pages (more than 2) to notarize, I charge $5 for
each
additional document stamped.
All of my posted fees
include
travel time and fuel so there are no hidden charges. I do limit myself to the
Bartow
, Mulberry, Highland City, Winter Haven, Eagle Lake, south Lakeland and immediate area.
I will consider mobile notaries out of this area at a higher fee to cover travel time and fuel.
My service is great for anyone that may be immobile, hospitalized, confined to a nursing home, caring for small children or just too busy to get out. I will come to you to
notarize
your documents.
I also provide
VIN verifications
that may be required by the Florida Department of Motor Vehicles (DMV).
I will come to your location and perform the VIN verifications. Fee $25 (or $20 if you come to me)
Embossed Notary stamp.
While Florida no longer acknowledges the
embossed Notary seal
or "
Impression Seal
"
by itself, Some local entities as well as many foreign ones may still require an
embossed notary stamp
along side the recognized rubber stamp. I do have an embossed stamp for such requirements.
See picture.
Marriages
-
I perform simple, informal marriages at your location. You must have first obtained the required and valid Florida marriage license before the ceremony can be performed. See the Marriages page for additional info - Fee $40

Remote Court Hearings - Need to be "sworn in" for a remote court hearing over the telephone. I can meet you at your location to do this. Fee $25 Read More

Jail notarizations - I am available for local (Bartow) jail notarizations as well. Fee $30


NOTE: Payment due prior to or at time of service. No exceptions.
NNA
Certified Loan Signing Agent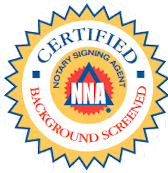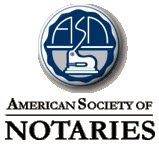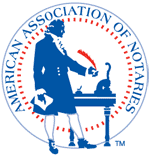 Call me today at 863-698-3793 Florida Notary Commission #: GG 979107 Expires:5/25/2024
BONDED & FULLY E&O INSURED
Last NNA background screening completed: October 4, 2022
Errors & Omissions Insured through: Merchants Bonding Company
(posted mobile Notary prices include travel time and fuel expenses)